Wanted to let you know that after using the captains controller for the past 6 months with NO problems at all, not a single delay.

I have no worries about recommending the captains controller to any captain or owner operating.

I single hand a 78' Marlow Explorer and certainly would not be able to do so without the Docking Master. My boss says it's the best mate we have ever hired and less expensive. Thank you so much for such a great product that makes my job much easier.
I would like to take a moment to offer my most sincere endorsement of the Docking Master product.

I have found the Docking controller to be an indispensable piece of equipment that makes unassisted docking safe by un-tethering the Skipper from the helm station and improving situational awareness. Although I was skeptical of using a wireless remote to control a yacht, I have found the product to be absolutely reliable.

This is truly a first rate product backed by outstanding customer service that will make anyone tremendously pleased.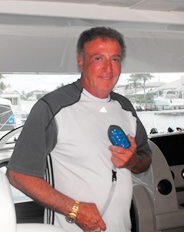 I have been using the same Docking Master system for seven years on two different boats that I have owned.
I currently own a 2009 55' Sea Ray Motor Yacht and the same docking master system was transferred from my old boat to my current one.
I strongly recommend the Docking Master as I have not had one issue in the seven years that I have owned it. I strongly recommend this product as it makes docking my boat extremely easy and it enhances my boating enjoyment.